Choosing the right fabric for your sofa is hard, even if kids and pets aren't on your mind.
However, when you do add cats, dogs, and sticky hands into the mix, choosing a sofa or couch can be time-consuming and stressful.
So, how do you select classic European furniture that will work for your (sometimes) messy lifestyle? We've got your answers below:
What To Avoid In Furniture Fabrics
The first thing any homeowner should know about picking furniture is that fabric matters. The second is that there are a number of things those looking for durability should avoid:
Delicate Fabrics
Chenille, velvet, and silk aren't a good idea for anyone with pets who may scratch at their new sofa set. The more delicate the fabric, the more likely your new furniture is to tear.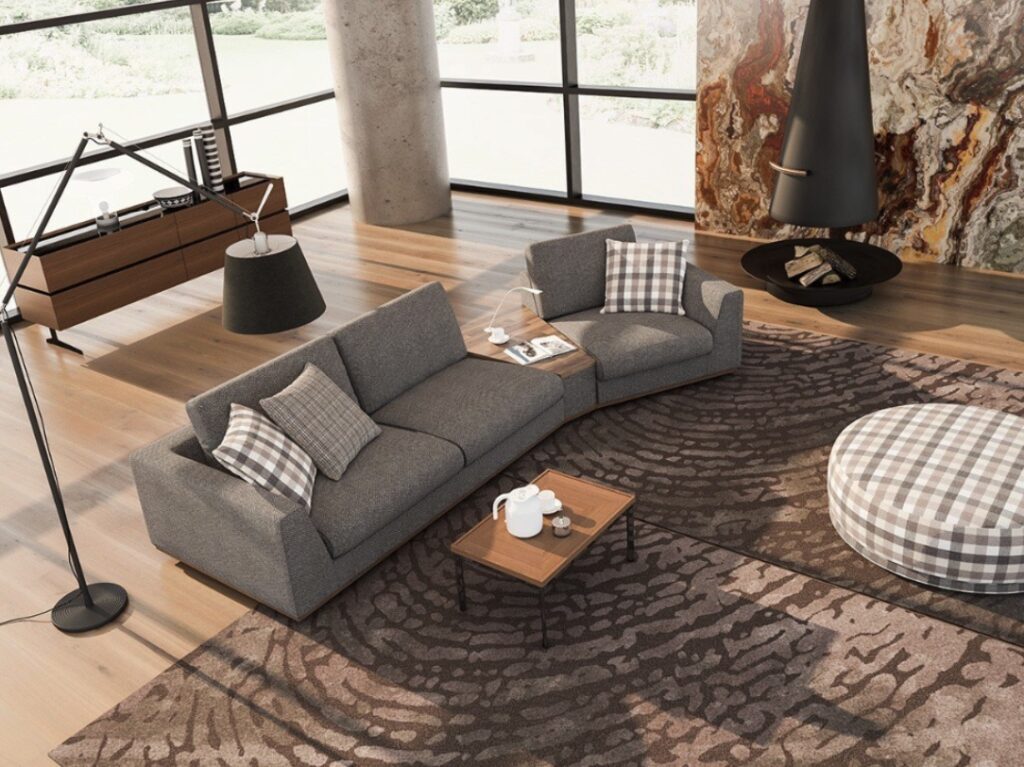 Loose Weaves
Certain loosely woven fabrics make it easy for pets to snag them with their claws. Kids can also get food crumbs and toys stuck in these weaves. Avoid loose weaves to maintain a great-looking (and smelling) couch.
"If you have a pup or kitty that sheds, you'll want to avoid fabrics with a loose weave, which can trap fur between the fibers." – Katie Boyce, Daily Paws
Light Coloured Fabrics
This likely goes without saying, but the lighter the colour of your furniture, the more grease, grime, and dirt that will show. That means dirty paws and hands will turn your white couch from chic and classic to grungy and gross.
Natural Leather
While leather is a great fabric choice, some leathers are less durable than others. Be sure to ask your showroom representative for all the details on the quality of leather you're looking for.
"Leather is one of the most durable materials, so it's a great choice for households with kids and pets. However, not all leather is created equal." – Nicole Lund, Apartment Therapy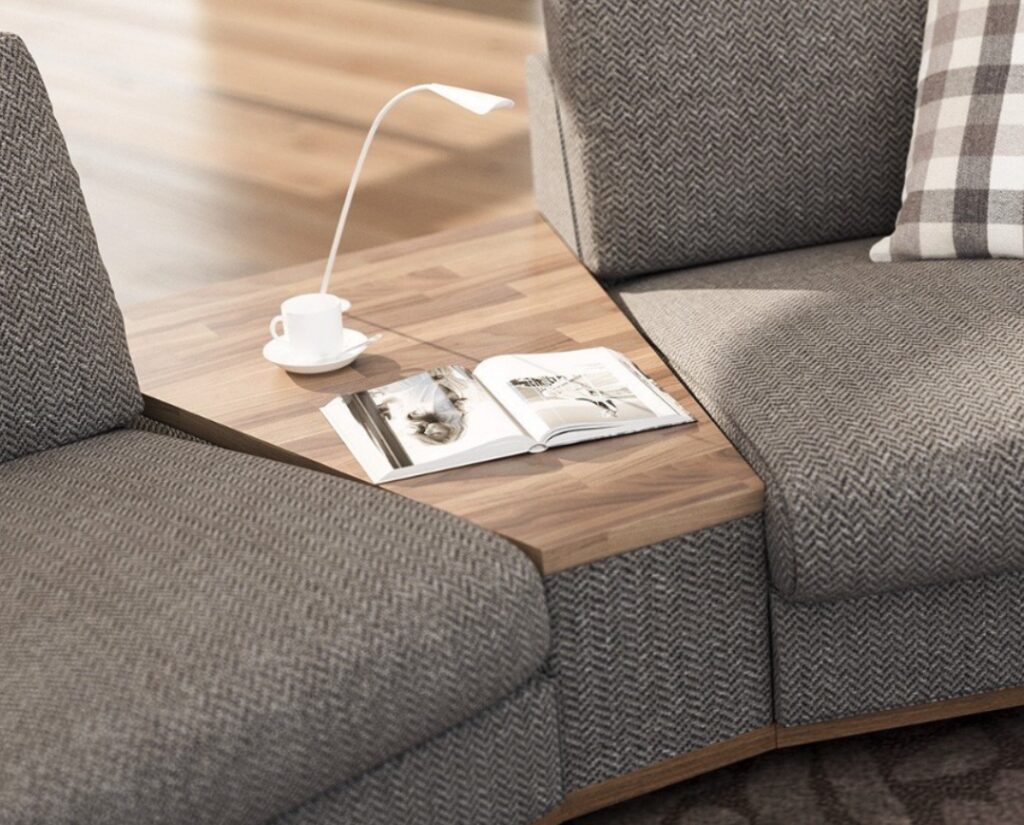 en fabric is that it offers dimensionality, making it easier to camouflage stains and hide pet hair." – Keri Sanders, HGTV
Microfiber
Nothing beats the power of a stain-resistant microfiber couch or sofa. Microfiber fabrics come in a variety of colours and textures that offer purchasers a ton of choices.
"[Microfiber] doesn't rip or scratch easily, and cleaning up pet hair is not time-consuming. All you need is a lint brush, or sometimes just your hands can do the trick!" – Home Furniture
Wool
When you think wool, you likely think durable. As with any wool item, piling, snagging, wrinkling, and ripping aren't a concern.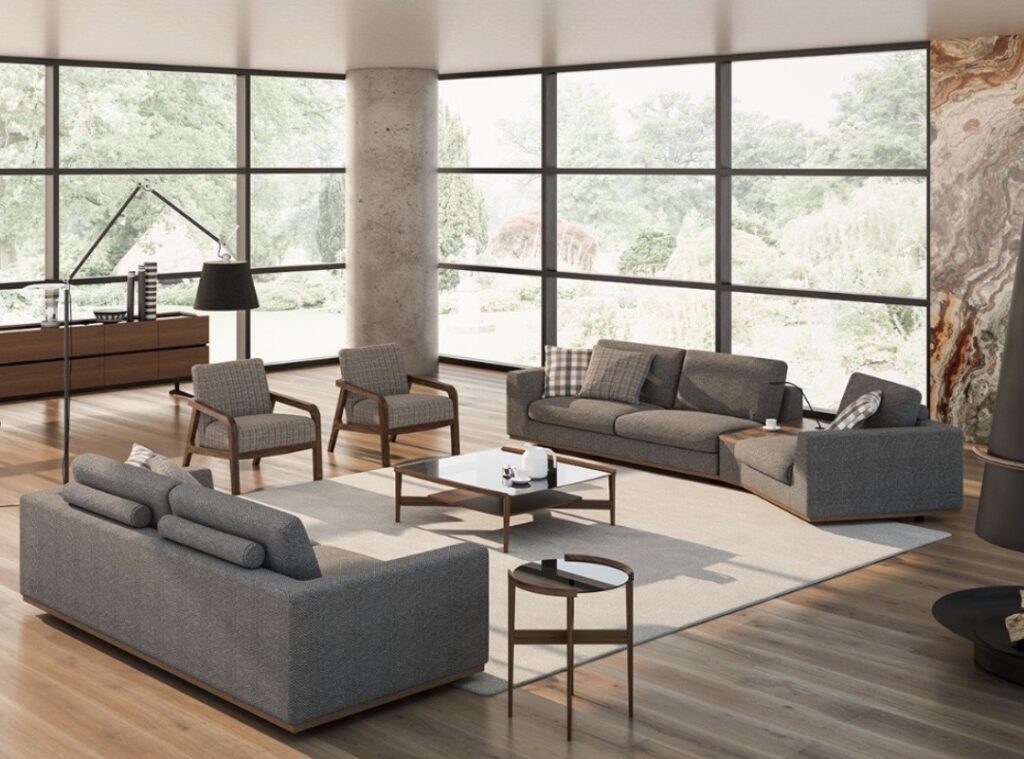 Vinyl
Vinyl looks smart, plays smart, and won't break the bank. Easy to clean and super durable, a vinyl couch is great for rough and tumble kids.
"Vinyl isn't as snuggly as microfiber, but in a playroom, it will hold up to lots of abuse." – Overstock
Discover Nanotechnology At Fouka Furniture
At Fouka Furniture, we're crazy about nanotechnology fabrics!
Nanotechnology means connecting molecules and atoms together to create impossibly tiny structure. It is built to last and reduce the level of maintenance efforts.
Nanotechnology applications draw inspiration from nature. As a result, this kid and pet friendly fabric is water-repelling, just like plant leaves.
The silver nanoparticles in nano fabrics are also antimicrobial, which means they kill the bacteria that cause bad odours. This means our customers benefit from fabrics that need to be cleaned less frequently.
Designed and developed in Belgium, our nano fabrics are water and stain resistant and almost completely scratch proof. These super durable features make nano very suitable for any busy household that has kids or pets.
Ready to go shopping? We offer a great selection of patterns and colours to accommodate any needs for our customer.
Visit our furniture store in Newmarket to chat with our experts today! We also welcome you to visit our online design centre for inspiration!